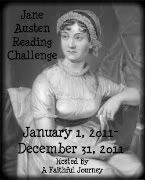 I really should post about this challenge regularly.
I think I will begin doing it at the end of each month from now on.
Has anyone completed any goals toward this reading challenge?
I did! I finished reading Emma in early March. It is the second Jane Austen title I have read. The other title I've read is Pride and Prejudice. I loved Pride and Prejudice and very much enjoyed reading Emma.
I wonder which title I will choose to read next...